Glen Duncan (Original Music Showcase) 
August 2003
By Bob Mitchell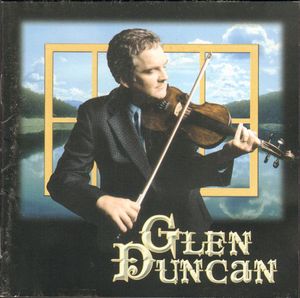 A good bluegrass fiddle recording is a gift from heaven. And, believe me, this one is a gift wrapped with a master's bow. From start to finish Duncan's fiddle work is about as sweet as it comes, especially on one of his eight original tunes, "Angel's Lullaby." This track is one of the most beautiful new tunes I have heard in years. Bobby All and Gregg Galbraith's guitar support is eloquent. Jessie McReynolds (mandolin) guests on two other Duncan originals, a rip roaring "Cross Cut Saw," and "December's Child," a lovely waltz written for his son. Eddie Stubbs lends his commanding voice to a sensitive reading of "Touch of the Master's Hand." 
Duncan, for those unfamiliar with his name, has been one of the most influential fiddlers in bluegrass and country music for the last 10 years. He has worked with Bill Monroe, Larry Sparks, Reba McEntire, John Denver, The Osborne Brothers, Loretta Lynn and numerous other household names. 
After one listen to "Lonesome Ridge," "Katy Hill" or "Sally Gooden" and you will understand why he is in such demand. "Sally Gooden" is an exciting new seven-minute cover for an old musical friend, featuring Bobby Osborne on mandolin. Osborne also sings an exceptional arrangement of "Footprints in the Snow." "Gallatin Road," another original, is a fiddle and banjo duet with the legendary Earl Scruggs. 
Duncan has appeared on The Tonight Show, Late Night With David Letterman, Austin City Limits and the Grand Old Opry and his awards and nominations for awards are too numerous to mention. Now, thanks to the Original Music Showcase label, he is appearing on many home entertainment centers. Latch on to a copy and enjoy a front row seat.